School Redesign
Through School Redesign, Principals and teachers joined together in an effort to redesign schools to meet the needs of unique communities. Schools engaged in a year long process to build models of personalized learning. This work began in the 2016-2017 school year with Spring Branch Middle School's Redesign process. Building upon the successes and key lessons from SBMS's new Atlantis and Endeavor programs, the school redesign process was expanded to engage ten additional schools in 2017-2018.
The Redesign Process
The above graphic describes the scope of work done during a year-long redesign process. Schools that are part of the collaborative experience will use a 6 step design process (empathy, define, ideate, prototype, test, scale).
In 2017-2018, ten schools engaged in the redesign process as a part of Cohort I. Each stage of the redesign process builds upon the previous work.
During redesign, schools explore how to design learning environments so students can be better prepared and thrive in the world they are inheriting. In the 2017-2018 school year, 10 schools engaged in a year-long process of School Redesign with, for, and by the school community. This included Elementary, Middle and High Schools that serve a diverse population of over 15,000 students.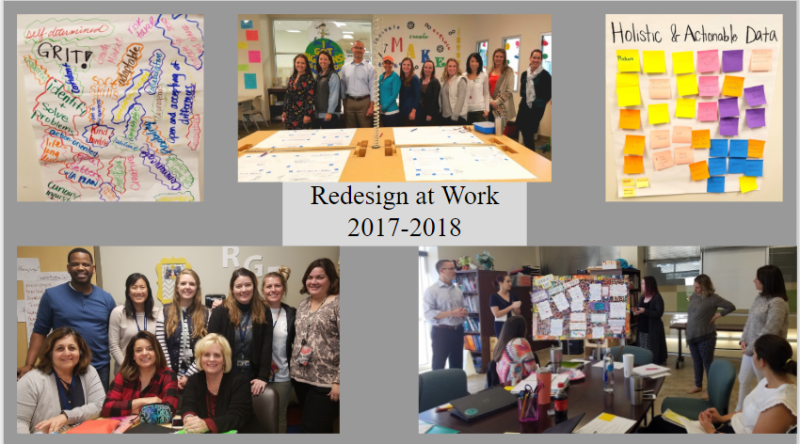 Spring Branch Middle School was one of the first SBISD schools to take part in redesign. They began their redesign journey in 2016 and their model was launched in the 2017-2018 school year. Their thoughtful approach provided new solutions to age-old challenges, while achieving measured success.
Recognizing the need to build teachers' and school leadership's capacity to support personalized learning, the Research and Design reinvented summer school at Ridgecrest Elementary. The Summer Opportunity enabled teachers and administrators to:
Engage in timely and targeted professional development sessions,
Leverage new skills and knowledge to collaboratively build rigorous personalized curriculum,
Prototype personalized instructional strategies in the classroom, and
Build each School Leadership Team's skill in coaching teachers effectively.
During the two week program, campus teams worked collaboratively to create plans and resources that would support Redesign. For part of the day, teachers engaged with students in the classroom, piloting and refining instructional practices that would be instrumental in their Redesign. Coaches gave real-time feedback to help teachers grow.
Examples of projects include: creating personalized interdisciplinary units of study, building structures for student-led goal setting and tracking, designing a socio-emotional learning component of the school day that can integrated into the curriculum, and creating plans for student-driven passion projects.